Why eat pizza in classic triangles when you can eat it in a star or other fun shapes?  Has there ever been a better use of mathematicians precious time than to solve the puzzle of how to do so?  Probably not.
Apparently the use of the redemption code JOSEPHSTALIN didn't earn the Russian branch of Papa John's many plaudits.  Maybe NIKOLAIGOGOL or LEOTOLSTOY would be a little less offensive….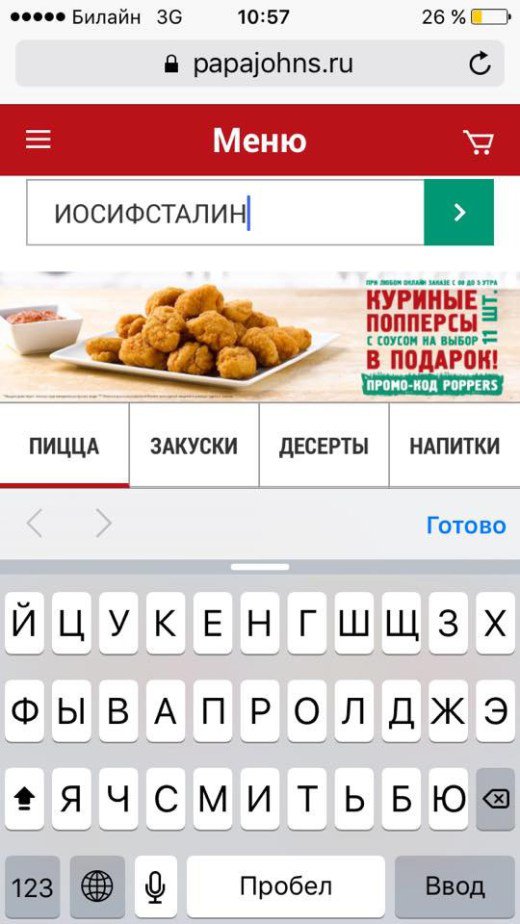 Have you heard of pizza waffles?  If not, then what are you waiting for, watch the video for the full recipe! And for you Italian speakers 'Il Pizza Waffle'.
"Better Ingredients.  Better Pizza." Looks to be getting more better-er, as Papa John's announced they are eliminating artificial flavors and synthetic colors from its pizza.
A hungry and conflicted thief in Spartanburg, S.C. robbed a pizza delivery woman of $98, but then "came back and asked for pizza…He also asked if the woman smoked and she said yes and he gave her a bag of marijuana." Probably not the first story to ever feature pizza and marijuana, but definitely one of the stranger ones.
Just when you thought the debate over whether pizza rats, raccoons, or bears were cuter, get ready for 'Pita Rats'.
Ever want to take a slice to-go without eating it right now?  Well you can save it for later with this pizza pouch necklace and munch on a slice during that meeting later in the day.
The Chipotle-style build-your-own-pizza trend continues to see more competition as Blaze Pizza opened a new location in Bakersfield, CA.  Could this be the new fast-casual concept that dethrones the existing fast food pizza oligopoly?  We'll have to get one in NYC before fortheloveofpizza decides.
The New York Times has a great pizza recipe for those missing the carefree days of summer – California Style Pizza with Sweet and Hot Peppers.
In political-related pizza news: Chris Christie plans to allow students eat whatever they want, including pizza, at school and Donald Trump stopped by Iowa's Pizza Ranch.  Asked why, he responded "You know why? Because I like the pizza. It's because the founder endorsed me that is why."
If you're tuning in to 'Undercover Boss' this week, expect to see Toledo's Marco's Pizza to be featured.
Do you know what your pizza order says about you as a person?  If not, check out this post from Elite Daily.
Chicago definitely has reason to celebrate since Paulie Gee's is opening its first location there.